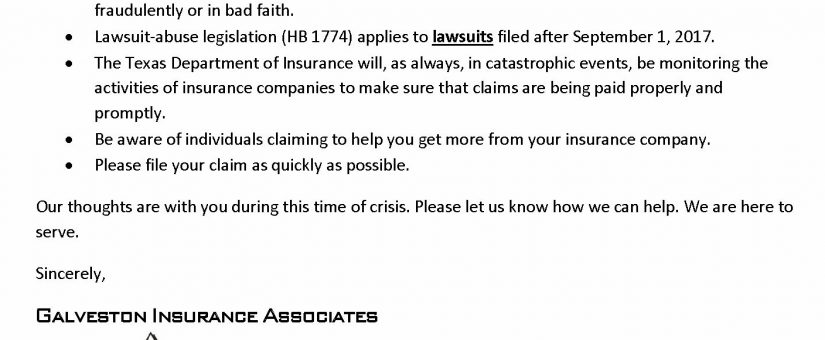 Posted by Kathy Marines
On August 28, 2017
0 Comments
Setting the Record Straight on Claims Filing Misinformation
You may have seen social media posts about your rights and obligations when it comes to reporting a claim.
The Facts
The normal claims process has not changed.
Texas has the strongest consumer protections in the nation against insurers that unfairly deny or delay claims.
You will continue to have a full-range of remedies in the event an insurance company acts fraudulently or in bad faith.
Lawsuit-abuse legislation (HB 1774) applies to lawsuits filed after September 1, 2017.
The Texas Department of Insurance will, as always, in catastrophic events, be monitoring the activities of insurance companies to make sure that claims are being paid properly and promptly.
Be aware of individuals claiming to help you get more from your insurance company.
Please file your claim as quickly as possible.
Our thoughts are with you during this time of crisis. Please let us know how we can help. We are here to serve.
Sincerely,
Galveston Insurance Associates
Galveston  •  Friendswood
(409) 740-1251
(281) 442-1892